<!? ここから記事タイトル上ウィジェット ?>
<!? ここまで記事タイトル上ウィジェット ?>
Magical Goldfish Exhibition- Art Aquarium Kanazawa 2016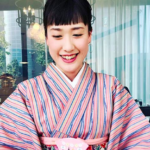 <!? ここからアイキャッチ画像 ?>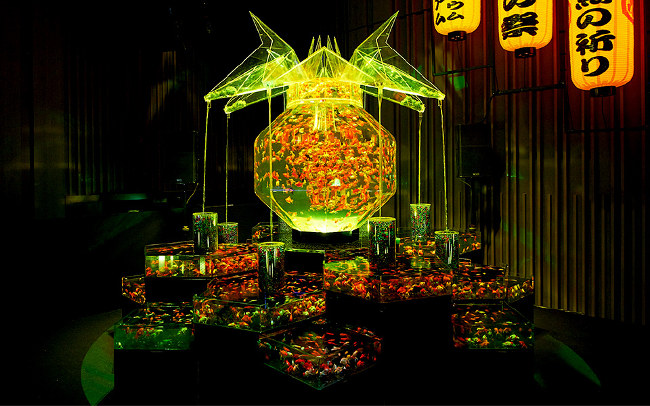 <!? ここまでアイキャッチ画像 ?> <!? ここからアイキャッチ下 ?>
<!? ここまでアイキャッチ下 ?>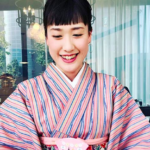 ISHIKAWA19の編集長です。 一児の母でもあります! 好きなことは空手、着物でお出かけ、マッサージ(するのもされるのも好き)、旅、アート、音楽・・・など、多趣味です! 好きな言葉は「ケ・セラ・セラ」
スポンサードリンク
 An Aqua-artist/ event producer, Hidetomo Kimura has just launched his commemorable 10th Anniversary Art Aquarium in Kanazawa. He creates a stunning Goldfish aquaria's exhibition and magical events.
The total attendance of  his exhibition reached over 6 million in Tokyo, Osaka, Hakata, Kyoto in the past and each exhibitions have different theme thus his unique exhibition attracts more and more people at each locations and they would like to see it again.
In this article, I would like to introduce about the features of Art Aquarium in Tokyo and also more informations of the latest exhibition at the 21st century museum in Kanazawa.
What is the Art Aquarium like ?
Goldfish is called as "KINGYO (金魚)"in Japanese. It is originally from China and became so popular in Japan in the 17th century. Initially, available only to the wealthy elite although the reason why Goldfish became popular ? because goldfish has been artificially hybridized in Japan and now there are hundreds of varieties and inexpensive to buy and also people believe in good luck for money as the name of Gold(金)fish (魚) in both of Chinese and Japanese "金" means "gold/ money" …
biography of Hidetomo Kimura 
The Art Aquarium artist, Hidetomo Kimura have been deeply attracted to goldfish that are how they simply look colorful, beautiful and mysterious fish. He was working for a pet fish shop for 5 years after high school as he promoted to be a general manager of a newly established division of the company from part time job. During that time, he was collecting marine fish from worldwide. 
He set up on his own business and imported variety of pet fish and sold them.  After working intensively for 4 years, he stopped working once and did travel over Japan and the world for about one and a half year. Then he came up with the idea which is putting goldfish into Art and creating exhibition. He built lots of ideas and experiences from the travel and all of his previous work experiences. Now he became the first and only person to combine "art", "design", and "interior" with his life work "aquarium".  He is super rich and successful guy however, he didn't graduated University.  
 I guess  the secret of his success must be  "goldfish " …maybe ;P 
The differences between Tokyo and Kanazawa's exhibition 
スポンサードリンク
The features of Tokyo's exhibition 
As he is from Tokyo, he hold his first Aquarium at the 53rd floor of Tokyo City View, Roppongi Hills as The Sky Aquarium in 2007. It became a hugely popular annual exhibition that draws crowds of stylish young people eager to sip colorful cocktails and admire exotic goldfish in uniquely-designed tanks while a DJ spins J-pop tunes.
This year, they display the highest number of 8,000 with 70 species of goldfish in Tokyo. The theme is "Ryo (涼)  During Edo-period (江戸時代)" 
One of the special art-work for 10th anniversary is called "Super Oiran " as it is world's biggest Goldfish tank. " Oiran "means courtesans in Japanese. There are about 3,000 goldfish swimming in "Super Oiran "
《Event info 》
【TITLE 】ART AQUARIUM 2016 ~Edo, Kingyo no Ryo~ & Night Aquarium
【PERIOD】Fri. 8th. July. 2016 –  Sun. 25th. September.2016 / Open throughout the period
【HOURS】11:00 a– 23:30  (last entrance 23:00 )
                     ♦ Art Aquarium 11:00– 19:00 ♦ Night Aquarium 19:00 – 23:30
【VENUE】Nihonbashi Mitsui Hall
     (COREDO Muromachi 1 5F [entrance 4F], 2-2-1 Nihonbashi Muromachi Chuou-ku, Tokyo)
【ADMISSION】Adult: 1,000yen (13 years old and older)
        Child: 600yen (12 years old and younger)
        Under the age of 3: free of charge
*

Child, 12 years old and younger, needs to be accompanied by a guardian.
*SPECIAL EVENTS are all finished 
the features of Kanazawa's exhibition
Kanazawa's exhibition is different from the other venue because this is their first time to be held in a public art museum such as the 21st Century Museum of Contemporary Art, Kanazawa. Thus, they carefully considered the selection of works and the spatial design to show the quintessence of the Art Aquarium to make the most of the techniques and methods that only art museums possess.
Another special feature of Kanazawa has a special joint exhibition with Tsurutaro Kataoka. He is a renowned painter, actor and also former professional boxer.
Coincidentally, Hidetomo and Tsurutaro graduated the same high school in Tokyo and they are good friends. So even both of artists are very excited to hold this special collaborated exhibition with uniquely combine their art-work.   
The event information 
【TITLE】ART AQUARIUM ~Kanazawa, Kingyo no Mitsu~
【PERIOD】Fri. 16th.Sep. 2016 – Fri. 14th. October. 2016 / Open throughout the period
【HOURS】Sun – Thu 10:00 – 18:00  (last entrance 5:30 pm)
      Fri & Sat  10:00 – 20:00 (last entrance 7:30 pm)
【VENUE】21st Century Museum of Contemporary Art, Kanazawa, People's Gallery A
      (Address: 1-2-1 Hirosaka, Kanazawa City, Ishikawa)
【ADMISSION】Adult: 1,200yen (16 years old and older)
          Child: 600yen (12 years old and younger)
          Under the age of 3: Free of charge
* Any social welfare notebook holder and one accompanying caregiver will be given 50% discount.
The notebook or a photocopy of the book must be shown at the ticket booth.
* Child, 6 years old and younger, needs to be accompanied by a guardian.
【INQUIRY 】Contact form via Email click ( English )
In Conclusion 
  Art Aquarium is one of the hottest exhibition in Japan now. So there must be a long queue when you get t0 the venue.  I knew that there were over hundred people were waiting just before open the exhibition in Kanazawa. 
So it is better to avoid especially weekends. Mon might be less crowded as generally most of museums include the 21st century museum closing in Kanazawa but except the Art Aquarium. 
Hope this article help you to get to know more about Japan and enjoy the exhibition.  
Thanks for reading ♥  please click this icon below for blog ranking. 
スポンサードリンク
<!? ここからCTA ?>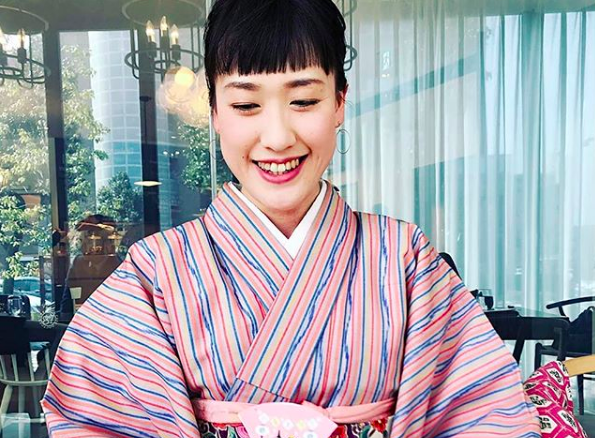 ISHIKAWA19の編集長です。 一児の母でもあります! 好きなことは空手、着物でお出かけ、マッサージ(するのもされるのも好き)、旅、アート、音楽・・・など、多趣味です! 好きな言葉は「ケ・セラ・セラ」